40 years of Medallion & retired after 50 successful years
40 YEARS OF MEDALLION: JEFF STEPHENSON WAS THE FIRST MEMBER TO DO IT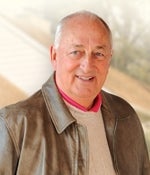 He'd be the first to tell you, success isn't a popularity contest. It takes persistence, perseverance and in his own words, a certain personality.
In his 50 years of selling real estate, Jeff Stephenson was one of the most recognized REALTORS® in the Fraser Valley and the Lower Mainland and in his heyday, in the entire province.
This prolific and high-profile Fraser Valley member marked an important, one-of-a-kind milestone for himself and the Board. He became the first member to be recognized for achieving 40 consecutive years of Medallion status, which means being in the top 10 per cent of all sales people in the Fraser Valley; and in his case the top one per cent every year since 1971.
Stephenson was the managing broker of Greyfriars Realty International that started in Coquitlam in 1966 and earned his first five years as a Medallion-qualifying member at the Real Estate Board of Greater Vancouver (REBGV). Within two years of becoming licensed, he was the top-selling agent in Greater Vancouver and in BC. Unfortunately, his initial Medallion records, and those of everyone else in the day, were destroyed in a fire that gutted REBGV's original board office.
The straight-talking 75-year-old attributes his almost half century of success to two things: Advertising and work ethic. Jeff says that any successful REALTOR® should have all appointments set two or three days in advance. And be prepared to do whatever it takes to get those appointments. If it means evenings and weekends, so be it.

"Do your own open houses. Advertise. Use conventional media or social media, I don't care how you get the leads, just get them. Sit down with the people and find out what they genuinely want, and then work. Work seven days a week if you have to.

"To me being a professional REALTOR® means doing the best of your ability for whoever's hired you, regardless of the consequences. If you don't know the answer, find out. If you get into trouble, take responsibility."

In his early days, his brand was the "guy with the pipe;" at least that's the image that was splayed across Vancouver billboards until he quit smoking in the early 80s. Then he was just known for being Jeff. Direct. Uncompromising. Hardworking. The stationary salesman from Northern England went from selling pens, rulers and paper in the sprawling English countryside to closing amongst the highest number of real estate deals in Canada's third largest city for over four continuous decades, a feat that few REALTORS® in Fraser Valley are close to achieving.

His 40-year Medallion trophy, like him was one-of-a-kind, And we wish him all the best in his retirement.
He would like to thank all of his past clients and fellow realtors for the many years of support. He absolutely loved this business and is so grateful for the opportunities it gave him.  Jeff will still be in the neighbourhood, as he runs Greyfriars Mortgage Corp , but life is going to slow down.